Parentivity
Introducing Parentivity: ChatGPT for Parenting
by Smartivity on Thu, Feb 02, 23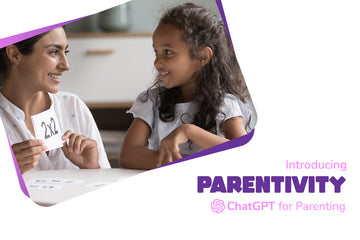 As parents, we all want the best for our children. We want to provide them with the tools and resources they need to grow and thrive in today's world. But with so many demands on our time and attention, it can be hard to know where to turn for help and guidance. That's why we're excited to introduce Parentivity, the next generation of parental guidance.
Parentivity is a chatbot assistant designed to support and guide parents through their child's development. Utilizing GPT-3 technology, our bot provides personalized advice and tips for any children's behavior issues, with a focus on social, emotional, and ethical learnings. Whether you're a new parent struggling to understand your child's behavior or an experienced parent looking for new ways to engage and support your child, Parentivity has you covered.
One of the key features of Parentivity is our activity and chore generator. Our bot can generate activities and chores that are creative and engaging, based on the child's interest and learning modules. This helps parents to keep their children active and engaged, even when they're short on ideas.
Another great feature of Parentivity is the chat feature. Our real-time chat feature ensure that you have access to support and guidance whenever you need it. Whether you have a quick question or a more complex concern, Parentivity's chat feature is there to help.
At Parentivity, we understand the importance of data privacy. We only collect and store the necessary data to provide a personalized experience and do not use or share this data with any third-party companies or organizations. Our bot is accessible directly via website, so no need to install another app. Parentivity is designed to be user-friendly and accessible to all parents. 
We are currently in the beta phase of development, but we are excited to bring Parentivity to parents everywhere. If you're interested in trying out Parentivity for yourself, sign up for our beta program and be among the first to experience the future of parental guidance.
In conclusion, Parentivity is a revolutionary chatbot that provides personalized advice, tips, and suggestions for any children's behavior issues, with a focus on social, emotional, and ethical learnings, generating activities and chores based on child's interest and learning modules and utilizing GPT-3 API for accurate and relevant responses, real-time chat feature and star feedback system, accessible via website and respects data privacy.

Thank you for considering Parentivity as your parental guidance companion.