Future Makers
A wave of STEM on a shore of learning for your little ocean explorer
by Smartivity on Thu, Aug 04, 22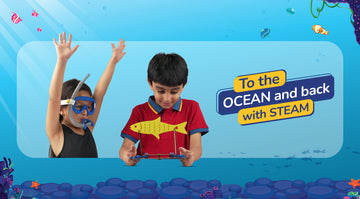 "Tell me and I forget,
teach me and I may remember, 
involve me and I will learn."
- Benjamin Franklin
To a young and curious mind, fun is just another word for learning. Being taught something might be memorable but learning something is unforgettable, and that's the whole essence of education that aims at holistic learning and development. Resting on the pillars of science and fun, STEAM learning offers active engagement that ensures an immersive session, concept clarity, and a solid foundation for wholesome learning for your child. 
Holistic development has many aspects, and since playtime is a crucial part of a child's life at any given point, our range of STEAM learning kits and activities aim at marrying their playtime with unforgettable learning that helps them grow emotionally, intellectually, as well as socially. In a child's formative years, however, learning holds an even deeper importance. A child invests most of their time in play and the exposure their toys and play bring create lasting impressions on their mind and behaviour. When playtime is what shapes their personality, STEAM learning is a great way to introduce them to the concepts and skills they need to ace in life. 
Our 7-in-1 range of Smartivity Kits and activities strive for Holistic Development Rainbow with each activity/kit offering a specific lifetime skill. The seven skills that our Holistic Development targets are as follows.
Our latest Little Sparks Ocean Explorer 7-in-1 Activity Kit is the first of many educational learning tools in the form of a sea toy that target each of these skills with a fun, engaging, immersive activity that prompts your child to think, learn, create, and enjoy at the same time.
Activity #1 | Snorkel, a wearable toy that targets Gross Motor Skills 
Gross motor skills are the skills that involve body movements using large muscle groups including arms, legs, feet, etc. The Snorkel activity in this ocean toy lets your child imitate swimming movements targeting his core muscles developing his motor skills. With this being a wearable toy, there is no chance that your child will want to miss out on the fun.
Activity #2 | Fishy Friends, an art & craft activity for Memory & Intelligence
Memory plays the most crucial role in boosting or shaping your child's cognitive capabilities. Being able to recall the right information at the right time doesn't only make your child feel confident but also helps them become a better decision maker. This activity targets memory as a skill with the help of shapes and stickers. As they unfold this ocean explorer ship activity, they get to comprehend and understand simple shapes in order to create complex shapes of marine animals that your child will eventually learn to recognize during the play. 
Activity #3 | Swimming Fish, an action toy for Fine Motor Skills
The third activity covers your little one's fine motor skills! Fine motor skills are the skills that target small muscles, including the ones in and around their hands and wrists, making movements easier and stronger. The Swimming fish activity targets the small muscle group as they make movements that get the fish swimming. They will not only refine their motor skills by making them move their fingers and wrists but also understand the mechanism of swimming up-close! 
Activity #4 | Spot the Wrong Animal, a puzzle that enables Critical Thinking
Critical thinking is a skill that is best nurtured early. It lends your child the ability to reason better and think rationally by understanding the simple logical grounds between things. The fourth activity builds their memory and makes them question their learning in order to figure out the correct answers.
Activity #5 | Float with Salt, a science experiment that offers Reasoning Skills
String reasoning skills go a long way! With activities and play that lets your child learn and make connections between relevant and connected things such as action and reaction, cause and effect, their understanding of the world around them improves. This fun experiment teaches them to observe and make sense of things like the effect of salt on water with a simple experiment. Science experiments pique every kid's curiosity and when done right, they teach them more than just a thing or two.
Activity #6 | Save the Ocean, a board game for Socio-Emotional Upskilling
Socio-emotional skills help children build healthy relationships, have empathy, and achieve a high emotional quotient from the very beginning. As the world keeps evolving, the pollutants, from trash to chemicals, are also constantly growing and piling up everywhere from the bed of the ocean to the shores. This simple board game sensitises your child to ocean pollutants, environment, sustainability, and empathy for the environment.  
Activity #7 | Underwater Party, a book for Language and Communication Skills
Strong language and communication skills help children convey their ideas, express their thoughts, and have clarity and precision in their minds. The seventh activity in this kit is all about this and more. Watch your child teleport to an underwater party and cherish it all via an imaginative and well-illustrated poem. It's not only going to be fun but will also expand their vocabulary and nudge them to imagine and express their interpretation of the world.
While they unfold this activity kit, they will acquire new knowledge, a space for asking the questions that make them wonder, and understand the world that's beyond their sight. So let's bring this amazing 7-in-1 activity kit home and seas the day, shell we?