Future Makers
The Most Innovative Things Happening With Educational Toys For Kids
by Smartivity on Tue, Aug 02, 22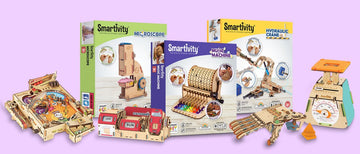 Learning is an essential part of life, and kids learn through their senses. They see, touch, and smell things and try to analyze and understand them. These learning help them form a knowledge base they use throughout their lifetime. Therefore it is essential to engage kids in innovative ways that will encourage their curiosity and learn through creative solutions. A vision to facilitate creative learning through fun is the core vision for many toy manufacturers who design educational toys for kids that tickle your kid's brain through fun and make learning more enjoyable and stimulating. Most parents often underestimate the importance of toys in their kid's learning. It's important to understand that kids, especially toddlers, are highly sensitive to their surrounding environment. They constantly learn through the people, objects, and ambiance around them. They are happier when the situation and people around them are happy and joyful; the same goes for learning. Kids' brains are highly receptive when it comes to learning. They absorb knowledge from the surrounding resources. And it's best to surround them with things that stimulate their brain and encourage learning. 
Over the several decades, many scientists have done numerous researches on how babies form their knowledge base in their initial years. According to the Child Development Institute, kids look at toys beyond just the medium of play and games. They treat them as mediums of learning. During the initial years of development, kids' brains and bodies rapidly evolve. They need things that can enhance their knowledge and serve as a medium to spark their imagination, satisfy curiosity and encourage them to engage with others. Therefore, parents must invest their time and money in educational toys specially designed for kids and their learning needs.  
Things To Consider When Buying Educational Learning Toys for Your Kid 
Kids educational toys and games have evolved with time. Modern educational toys for kids are strategically designed based on detailed research to offer your child a holistic learning experience through fun. Even the casual interactions with these toys introduce kids to new shapes, colors, textures, and functions. They understand where a square block can fit, and this learning will stay with them forever. Therefore parents must be mindful and conscious about which toys they choose for their kids. Though most parents are vigilant when choosing everything safe and the best for their kids, they often neglect this concern when selecting toys for them. Your child might enjoy playing with dolls, stuffed toys, and remote-controlled cars, but they may not be helpful when it comes to learning. Kids learn through subtle ways that stimulate their senses. And as parents, you must look for learning and fun perspectives in the toys you choose for your child. Here are some crucial purchase factors to help you find the best educational learning toys. 
1. Age 
It might sound obvious to choose age-appropriate toys, but parents can make mistakes too. Most parents often choose the toys their kids like the most in the toy store. But it is essential to understand that as a parent and an adult, you have better knowledge and understanding to choose what's best for your kid. Age is a crucial factor that you must consider when selecting educational toys and games. Kids undergo rapid biological changes. Their senses and cognitive and motor skills are constantly improving, and the toys need to catch up with these improving needs for learning. A 2-year-old may not be able to assemble a toy airplane, and an 8-year-old kid can efficiently complete a jigsaw puzzle, which may not stimulate their learning to its fullest potential. If your loving child is 6 years old, you must look for educational toys for 6 year old as they are specially designed to satisfy the learning needs of that specific age group. You can check the packaging to ensure that the toy is appropriate for your child's age.  
2. Material 
Your child's safety must be your utmost priority. Therefore you must ensure that the toys you choose for your kid are made with hazard-free and safe material. Most educational toys are made from plastic, silicone, TPU, and cardboard. If these materials are not high quality, they might cause various health problems and risk your child's safety. Poor quality plastic and rubber can also cause skin irritations, allergies, and rashes. Make sure you check whether the materials are safe for kids and be mindful of any allergies of your kid. It is also essential to verify whether the materials are eco-friendly or not. Many eco-friendly toy brands use cardboard as they are eco-friendly and are not harmful to kids. The material plays a vital role in the durability and longevity of the toys as well. Keep these crucial things in mind when evaluating the material of toys.  
3. Learning Potential 
Every parent wants their child to learn and grow while having fun. It shouldn't feel like a forced chore or a burden to them. They should feel more drawn to the toy as they receive more experience from them and form their knowledge base. All these things happen naturally, but you get to set the direction for their learning. You have the opportunity to decide which toys your kids can learn from, and that way, you can play a crucial role in your child's learning. Therefore you must evaluate what learning potential each toy has. There are specific toys that help kids develop their motor skills, social skills, physical strength, and cognitive abilities. They learn through shapes, colors, numbers, textures, letters, and patterns. The toys must have specific goals associated with them, which will ensure your kid will develop a particular skill more efficiently. You can choose from various educational games and toys like crossword puzzles, number and letter puzzles, building blocks, shape sorter boxes, DIY cardboard microscope, DIY pinball game, etc., to help your kids towards holistic learning.    
Educational and activity toys and games profoundly affect your child's learning. When kids learn through interactive and creative ways earlier in their age, they are more likely to acquire more intricate skills in their future. They become more decisive, confident, and social. They improve at leadership, teamwork, problem-solving, and decision-making. Therefore every parent must invest in the right education and learning toys for their little munchkins.