Future Makers
Smart Learning and Developmental Toys for Your Kids
by Smartivity on Thu, Mar 03, 22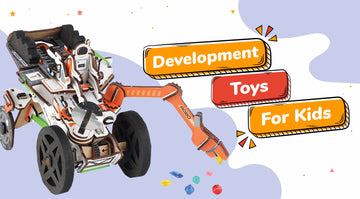 The pandemic might have restricted us within our four walls, but it cannot curtail our creative and imaginative prowess. Children should have the wonderful opportunity to engage with toys that allow them to experiment and learn! Smart learning develops positive skills such as strong analytical and critical skills, problem-solving abilities and gives them an opportunity to showcase their vision of inventiveness.  
Smartivity provides wonderful toys ranging from ages 3-14, allowing for the implementation of practical oriented knowledge which prepares them for the future. It incorporates the aspects of STEAM (Science, Technology, Engineering, Arts and Maths) with the intention of imparting smarter learning. They are cost effective toys which incorporate life action mechanisms and deliver a mission-oriented game for the kids to play with. Our toys fit into the sociological expectation of toys, where a child can continue to play with the product, they build themselves, by using their thinking and creative abilities.
The pinball machine brings to life the fun only imaginable at arcades. But now, you have the opportunity to build your own pinball machine with well-developed products and a well-worded instructions guide making the entire process enriching and enlightening. Children learn amazing concepts such as the working of levers, energy transformation and momentum transfer. It also allows one's creativity and imagination to become a reality.
Your science skills are brought into greater light and height when you get an opportunity to engage with products such as this microscope. It puts together an object for you to see even the minuscule of things that you wish you could see all the time! You learn concepts of refraction, rack and pinion mechanism and magnification. It is now a piece of cake for you to create your very own microscope!
On the creative font, this music machine allows you to compose the tune you desire. It also presents you with instructions to create tunes to several famous songs already in existence allowing you to learn and build on your creative skills even further. With this wonderful product you learn about music and notes, harmony and composition skills. Bring out your composer in you with this wonderful toy. 
Make kids learning activities at home fun with this product. Your very own kaleidoscope allows you to attain the best, colorful visual experience. It teaches you refraction, shapes, reflection and light. Not only does this allow you to enhance your creativity skills but also gives further impetus to your critical skills. 
When you build this toy, it won't remain static. This crane allows you to lift objects and check the process of what happens when it is being lifted. Hydraulic mechanism, aerodynamics and scissor linkages are some of the concepts you learn when you engage with this wonderful product. Science is an important topic that children should imbibe in them from a young age. This product is the best way to let that happen! 
Our focus on smarter learning is emphasized by products that put emphasis on science. It brings along a maker's ethics and mindset which results in a more sustained and content adult life. It brings into life various concepts of science, leaving no experience of learning and fun behind!
These fun learning activities for kids ensure easy learning for them at home. These creative activities at home give children a chance to learn, be clever, imaginative, ingenious and original. The products mentioned above are just a part of the wonderful parcel of toys at Smartivity. Every toy gives greater push to concepts which will ensure a skillful development in life. Smartivity is the definition of smart learning and developmental toys for kids!