Future Makers
The Best 5 Learning Toys for Kids
by Smartivity on Wed, Feb 02, 22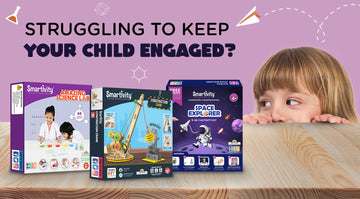 "Children need the freedom and time to play. Play is not a luxury. Play is a necessity." – Kay Redfield Jamison
When we think of toys and games for our kids, we somehow think of it as a waste of time, or think of it as precious time that they could use for studying instead. What we sometimes miss thinking about is that children need the act of play to keep their minds energised and occupied and hence, ready and motivated to learn. 
Even the greatest scientists like Einstein got their best ideas when they were relaxing and playing, or in adult terms 'experimenting' with their ideas. After all, what else is play but a series of experiments and problem solving in fun ways? 
But of course, there's another side to play in our modern world. We're bombarded with a plethora of toys and engaging activities for kids which might or might not benefit them. That's where our role as parents and caregivers come into the picture. We can find the right educational toys that will nourish their minds and make them learn things as opposed to toys that they will break by the end of the day, without even giving them a chance to learn how they were made. 
That's exactly where STEAM educational toys come into the picture. These science toys and kids learning toys will nourish your child's mind as they can be built from scratch and then broken to be reassembled too! So whatever they do, you wouldn't need to worry about them making it or breaking it. 
So when you're ready to take your young ones on a playful, yet learning journey, here are the 5 best kids learning toys you can get home: 
1. Amazing Science Lab 
If you're looking for educational toys that will get your kids excited about science, the amazing science lab has it all! With 44 different experiments, equipment, chemicals and instructions, it's the perfect recipe to spark the joy of curiosity in your young scientists. 
Science toys like these are a great, fun way to get your kids hooked on science experiments at home. They'll get their hands dirty, create a mess, have fun and learn with such educational toys, all at once. Win-win for everyone! 
Age: 6+ years
Get the kit home: Amazing Science Lab 
2. Construction Crane 
Learning concepts of Gravity, Angles & Pulleys while they play? Is that even possible, you ask? Now with Steam educational toys, learning with games is possible! Here's the perfect STEM toy for the little ones who love wrecking (and building) things: Smartivity's Construction Crane!
Construction Crane is a building, stacking and a wrecking educational toy bundled into one fun-to-operate machine. Designed to spark curiosity towards angle precision and basic concepts of pulleys, a balancing challenge awaits as kids prevent the mighty crane from toppling. Science toys like construction cranes encourage kids to create from scratch, enhance motor skills and promote free experimentation, all simultaneously!
Age: 6+ years
Get the kit home: Construction Crane
3. Hydraulic Plane Launcher 
With this science toy for kids, your young pilots can soar to the skies! And what's more, they'll even build their own plane launcher using concepts such as hydraulic systems, aerodynamics and scissor mechanism. 
Hydraulics is a technology and applied science using engineering, chemistry, and other sciences involving the mechanical properties and use of liquids.
Aerodynamics is the study of motion of air, particularly when affected by a solid object, such as an aeroplane wing.
A mechanical linkage is an assembly of bodies connected to manage forces and movement.
The kit includes all the elements needed to assemble a hydraulic pressure based plane launcher, foldable paper with markings to make different types of planes and an easy-to-understand instruction manual. Just fill the syringe with water, and experience the magic of science!
Your young ones will get the chance to observe how different types of planes have different flight patterns. To make the game more exciting, launch the plane and the plastic balls together and bomb away! 
Age: 8+ years
Get the kit home: Hydraulic Plane Launcher 
4. Space Explorer
All the space news making your young ones run around the house wearing a blanket as a cape, breaking things instead of boundaries? Then educational toys for 3 and 4 year olds like the space explorer are the best kind of educational games to keep your kids occupied during the lockdown. The DIY experience of Smartivity's Space Explorer 5-in-1 Activity Kit will allow your kids to take their very first steps into a universe filled with wonders. From launching their own rocket into space, to exploring the moon and making constellations, there's endless fun and numerous possibilities with the Space Explorer Activity Kit. 
Age: 3+ years
Get the kit home: Space Explorer
5. Jungle Explorer
Want your child to explore the wonders of nature while sitting right at home? This science toy for 3 and 4 year olds includes 5 exciting jungle-themed activities to keep young minds engaged in discovering and exploring their wild side without even stepping out! Through these educational toys, your child will experience an adventure through the jungle where they will meet different animals, learn how to make things on their own, and understand fundamental concepts from science like how trees drink water, and how a tree-house is built.
Smartivity's Jungle Explorer follows the experiential play model of early learning to nourish your child's development in the most fun and engaging way! 
Each activity in science toys like the Jungle Explorer is designed in collaboration with academic experts to ensure that your child learns age-appropriate and development stage specific concepts through play. Smartivity's Jungle Explorer also allows you to organise a month's worth of activities planned in a neat calendar so you don't have to worry about finding new things to do every day! 
Age: 3 - 5 years
Get the kit home: Jungle Explorer
In conclusion, there are innumerable benefits of engaging your child with science and educational toys. While they have fun, they can also learn real world concepts that can spark a sense of wonder and curiosity for learning and following a career path they find enjoyable and interesting. 
So get your kids the right educational toys and you'll never have to worry about too much play time and not enough study time because it's possible to have the best of both worlds for your young ones!