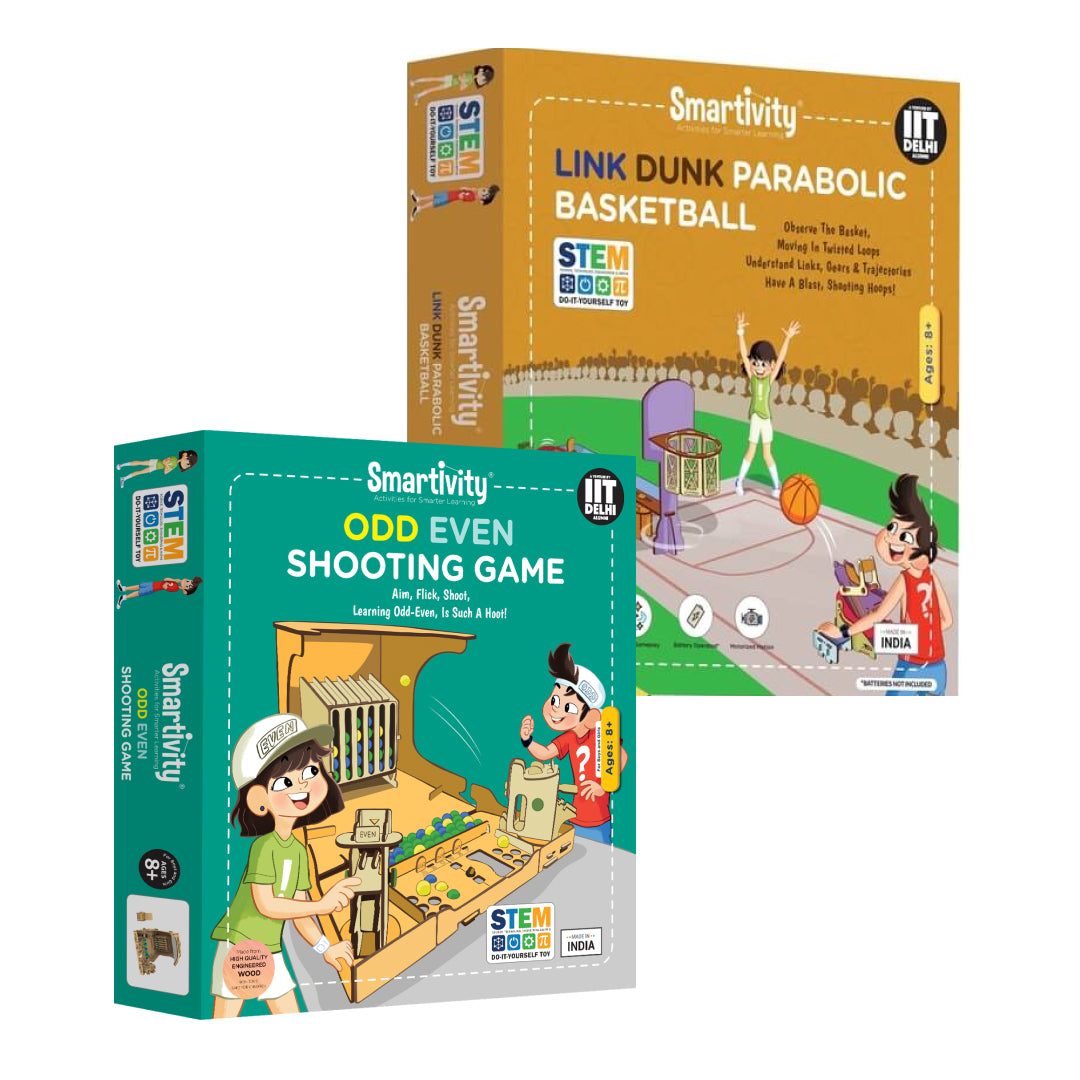 Odd-Even Shooting Game


When was the last time you saw your child having fun calculating numbers? Smartivity Odd Even Shooting Game turns maths into a blast! Construct this compact toy. Flick the balls into the columns. Each ball has a value. Add these values in columns to decide if it is odd or even. One player represents odd and other represents even. The player who owns most number of columns, wins the game. Add a fun twist to the game using the Finisher balls. This project is based on the fundamentals of Odd-Even Numbers, Projetile Motion and Addition. Who said Math was boring!
Link Dunk Parabolic Basketball
The fun of a basketball game meets the delight of discovery in Smartivity Link Dunk Parabolic Basketball. It consists of two construction modules - the motorised basketball court and the multi-ball, triple-angle shooter. Explore the numerous combinations of speed (gears) and parabolic movement (links) of the basketball court, and shoot for the hoop with the adjustible angle shooter (holds 5 balls at a time) to playfully explore complex concepts of link-mechanisms, gear-ratios, motion and trajectories. All the thrill of a basketball game comes right into your child's room!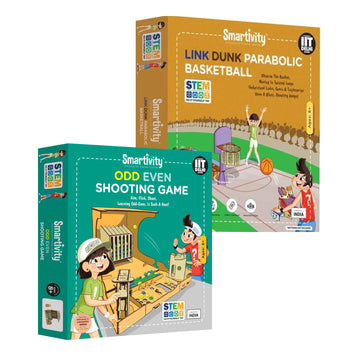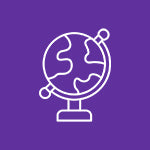 Present in more than 33 countries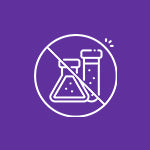 Safe and non-toxic designs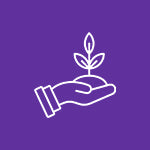 Mode from eco-friendly materials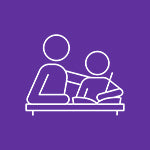 6 million+ happy customers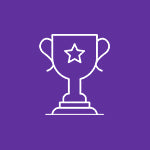 Winner of multiple global awards
Love From Our

Smartivity Family
Yes, Smartivity designs build-from-scratch toys to make children experience the confidence and joy of creating their own projects.
Yes, all Smartivity toys come with a well-guided, easy to comprehend instruction manual with step-by-step instructions to follow. Along with written instructions, video links on how to construct the toys are also available.
No, all Smartivity toys are mess and glue free. We use rubber bands to hold the MDF parts together, allowing for easy assembling and reassembling of the toys.
We offer lifetime free parts replacement and if you ever break or misplace a part or the manual, request for a new one at
here
As an ecologically conscious company, we use eco-friendly products. Our core material is premium quality Medium-density fibreboard (MDF) which is made from re-engineered wood fibres.