Future Makers
5 Diwali Gift Ideas for Kids of All Age Groups | 2020 Special
by Smartivity on Thu, Nov 12, 20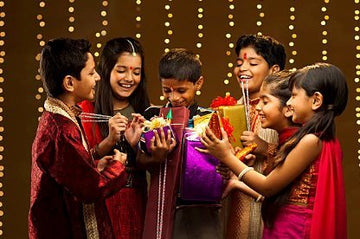 Any other year, right about now, our houses would be turning into bee-hives, buzzing with activities. Adults would be busy spring cleaning the house, kitchens would be pulling night-shifts to get those family-special snacks and sweets ready for endless hogging. Families would be out every evening shopping to finish the annual gift hunt. And kids? Well, kids would be excited about schools shutting down for vacation.
Any other year, we would be excited about the biggest festival of the year - Diwali.
But this is not any other year. This is a year we have all spent indoors. Given the circumstances, you really might not feel like cleaning up the house. You might not feel like preparing those amazing snacks and sweets. Or getting new clothes. After all, who's going to visit you for those taash-parties or get-togethers. So, why bother?
Well, I'd argue, THAT is why bother. This year, the festival of lights has even more relevance. As we grapple with the 'new normal', Diwali is here to give us all a chance to spread some joy in each other's lives, cheer-up our loved ones and celebrate hope and light. Each one of us is looking for the light at the end of these difficult times. And a small gesture from each one of us for those we love could make a world of a difference in everyone's life. 
Any other year, your gift might have been a celebration of an age-old tradition, a way to express gratitude for the relationship you share, a way of rekindling bonds, or an overt display of social status. But this is not any other year.
This year, sending a thoughtful Diwali gift is the only way you can reach out to someone and tell them that they are in your thoughts. So, while you may skip the house-cleaning and the dressing up, sending across Deepawali gifts might truly embody the spirit of the festival this year.
When it comes to thoughtful gifts, adults are easy. You know them, their likes, dislikes, the general trends they follow and what might interest them.
Finding Diwali gifts for kids is a different ball game altogether.
Children are so diverse, and they have such complicated demands that it is difficult to find a gift for them. Simple stuff won't do. The gift has to be cool - read, interesting and innovative. The gift has to be fun (otherwise it will be dumped the second instant). And the gift has to make sense - teach some value, not be just mindless timepass. 
But don't give up. If anyone, it is the kids who need this lifting of spirits this Diwali. So, here are some tips to select the right Diwali gift for a child:
Pick something appropriate for the age
This is the easiest and super important. Most products come with age labels. So, ensure that the gift that you buy is right for the age of the child you are gifting it to. Of course, every parent believes that their child is way smarter than others of the age, but always trust the label.
Values communicated by the gift
Make sure that your gift communicates the right values. Avoid gifting toys that promote violence or are noisy, or encourage certain objectionable behaviours. Like spending too much time on screens or creating a mess around the house. Usually, educational toys and toys that keep kids constructively engaged are gifts that a parent would appreciate the most.
No Pets
This one is a no-brainer. Raising a pet is a life-long commitment. This is not a commitment that you should make for someone else, no matter how good your intentions are or how well you know the person.
With these tips in mind, here are some gifts that you can consider this Diwali for children who need some indoor engagement in the 'new normal':
For Age: 2-5 years
MAGICO Pre-School Fun&Learn by Smartivity
Here is a way to make the time that a child spends on smartphone into learning time with actual physical play. Smartivity has blended cutting-edge technology with physical play in Magico Pre-School Fun&Learn. With over 1200+ activities, this is a child's complete pre-school at home. This activity kit covers the entire NCERT syllabus and delivers learning through play. The 20 workbooks spread across 10 prescribed themes, and the cute Boo-Boo tiles offer tactile, sensory learning experience, whereas the FREE APP offers the interactive component. 

For Age: 5-6 years
DIY Block Rangoli Making Kit by POTLI
This festive season help kids make their own beautiful Rangoli with this 100% Handmade Rangoli Kit. It comes with paper, wooden blocks, and water colours. And makes for an amazing way to help them learn this traditional block making and Rangoli art of India. They can also use the blocks later for creating their own stationary, recycled wrapping paper, crafts, picture-making, greeting cards, party invitations, scrap booking and more. 
For Age: 6-8 years
Ancient Living Daadi/ Navakankari/ Nine Men's Morris Board Game
This one is an ancient Indian board game that is sure to keep kids and even adults engaged. It tests skills in strategy and planning. In the West, this game is called Nine Men's Morris. In India, it is played under names such as Navkankari, Muhle and Daadi across different regions. The aim of the game is to get as many points as possible by getting three coins in a row. While similar in movement to noughts and crosses, this game is far more complex. The ultimate objective is to bring the opponent's coins down to two, or to block all the opponent's moves, thus rendering the opponent unable to play.
For Age: 8-12 years
Mechanical Xylofun Music Machine by Smartivity
Make this festive season for kids even more melodious by helping them create their own music. The Smartivity Xylofun Music Machine helps kids discover the mechanics of music. Once built, kids can use the xylophone to create their own tunes and melodies. It boosts their creativity and keeps them engaged for a long time. Help kids wow the world!
For Age: 12+ years
Piggy bank is a great option as Diwali gifts for children as it will teach them to save money & patiently wait to reap its benefits. This is the best way to teach kids about finances and the importance of saving. Make sure to pick something in a color they like. And you can even consider buying customized piggy banks with their name on it. Put a checklist inside this gift about "How to save money".
Hope that will help you find the perfect gift for kids, this festive season. And may you and your loved ones have the best year head.
Wishing you a Happy Diwali from everyone at Smartivity.