Future Makers
Best educational toy gifts for 8 to 12 year old kids
by Smartivity on Fri, Feb 11, 22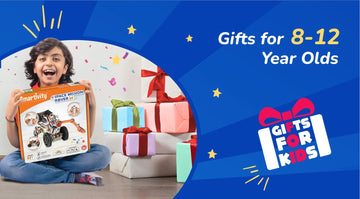 Looking for gifts for young ones can be a daunting task. Even more so, with so many options available in the market, and the problem of having to choose the 'right one' for a young child. Because the first thing that pops into your mind is that you never know whether or not a child will like the gift you get for them. Or maybe they already have it. Or maybe it's suitable for one gender, and not for another. Or an even greater question pops up, of whether or not their parents would approve of it, and so on and so forth. 
But there's a way out! We believe the best bet is to find educational toys for kids. These can be gifts that bundle up the fun of playing and the benefits of learning so the child's creativity and intelligence can be nourished, while being gender exclusive, all simultaneously! They can never have too many toys they can build with their own hands, each time can be a new learning experience, and most importantly, it will nourish their minds, while allowing them to have a lot of fun!  
So if you're on the lookout for such learning toys as birthday gift ideas or any other occasion, here's our list of the best educational toys that any child (and their parents) would absolutely love! 
Amazing Soap Lab
Here's a birthday gift idea that can let young minds unleash their messiness into creating something new: different types of soaps! Help them mould their imagination with child safe and non toxic science toys that explain concepts of soap making in the most fun way possible. To top it all, there'll be new shapes each time!  
And of course, there's endless possibilities when you mix chemistry with arts and crafts for kids through these educational games. Not to forget their parents will love your gift too!   
Moreover, while they're having fun being messy, you'll be remembered for boosting their confidence in their ability to experiment and create new things on their own. What's more in store with such fun games for kids is the fascinating properties of clay dough, glycerin, and the science behind paper soaps. 
Age: 6+ years 
Get the kit home: Amazing Soap Lab


Pinball
You must have played Pinball at the Arcade. For your kids, you can now infuse a sense of creativity and immense imagination in your kids by bringing them the innovative Pinball DIY Kit by Smartivity. With this kit, your bright minds can now design the entire Pinball game by themselves –from scratch.  
Smartivity's Pinball Machine STEM educational toy kit features all necessary parts needed to help your young ones come up with an interesting game. The kit features step-by-step instructions to come up with a fully-functional Pinball Machine.  
By keeping the ball in play, you can be aware of the poppers! Your children are expected to score maximum points as they challenge their friends to beat the high score. During the process, your children learn about core STEM concepts like energy transfer, momentum, and levers through interactive play.  
Age: 8+
Get the kit home: Pinball
Foosball
Making a DIY Foosball Table game can be a fun-filled and thrilling activity for the young minds. The best part is that kids of all age groups can create the game from scratch while having loads of fun playing the game as well. You can try this game for your kids above 6 years of age. The epic activity promoting STEM-based learning is indeed going to be a major hit amongst your little ones.  
If you are looking for an engaging STEM activity for your kids, Smartivity has got you covered! It brings forth the innovative range of STEM-inspired Foosball Table Game DIY Kit that kids can use to develop the table game on their own. The kit is available with a dedicated set of instructions that enable kids to develop the mind-boosting game from scratch. Your children can have endless fun for several hours as they continue battling out in the soccer field.
Age: 6+ 
Get the kit home: Foosball
Mechanical Hand
Kids are going to love the concept of having a robotic hand of their own. Smartivity's Robotic Mechanical Hand is just perfect for your inventive kid. Featuring the realistic hand anatomy, the fingers of the mechanical hand move just like your real ones. With the next-gen robotic hands, kids can have great fun grabbing things, making hand gestures, opening door handles, and even playing catch. 
The STEM-based Mechanical Hand by Smartivity introduces the young minds to the amazing anatomy of the human hand while highlighting bones and joints of fingers in addition to tendons and ligaments. Using the step-by-step instruction set by Smartivity, kids can design their own Mechanical Hand from scratch. 
Age: 8+
Get the kit home: Mechanical Hand Toy
Space Rover
Allow your kids to explore a new planet with the all-new STEM Space Mission Rover by Smartivity. The mission of the young ones is to explore a new planet on the feature-rich space rover. On the new planet, the younger ones are expected to collect rock samples with the help of a robo-arm they have just designed. The rover is available as an Astronaut figure along with a graded power-level indicator, collector bins for space rocks, and a rotating antenna.  
Your kids will love exploring different speeds at which the rover will move upon passing different power levels. Kids can also try out different playing modes with the STEM-based Space Rover toy by Smartivity. It can be done locking and unlocking the antenna. The STEM-based educational toy for kids helps them understand core skills like friction, gear mechanism, motion, and elasticity as they aim at accomplishing their mission.  
The revolutionary Smartivity STEM-based Space Mission Rover is designed to inspire aspiring space explorers and astronauts.  
Age: 6+
Get the kit home: Space Mission Rover
Tips to Choose the Best Educational Gifts or Toys for Children 
If you are thinking of gifting something unique, yet interesting to an 8-year-old, Smartivity brings forth a comprehensive suite of DIY, kid-friendly toys and learning games that are great for holistic development of young minds. Some additional tips while choosing educational gifts for the budding aspirants are: 
Search for Gifts that Promote Heuristic Play: Heuristic play is regarded as the sensory exploration of day-to-day items -beneficial for all-round development of children. Innovative toys like building blocks and DIY tools allow your young ones to be highly creative as they can make use of these elements as they want. Most of the open-ended toys or gifts at Smartivity promote STEM learning in a natural and fun way -crucial for lifelong skills.

 
Toys Promoting Social Skills and Collaborative Play: You should encourage your kids to be social from an early stage. It contributes to increased self-confidence, interaction, and communication at different stages of life. When you choose toy gifts that promote development of social skills -including board games, experiment kits, puzzles, and DIY kits, you will teach your kids the notion of sharing and problem-solving. 

 
Conclusion 
The best educational toy gifts are the ones that capture the attention of the growing minds while constantly challenging them to discover and explore. Just remember that you should be equally involved in the overall development of your child by interacting and binding with them as they play.