Future Makers
Best Family-friendly Toys to Get Everyone Involved
by Smartivity on Wed, Nov 23, 22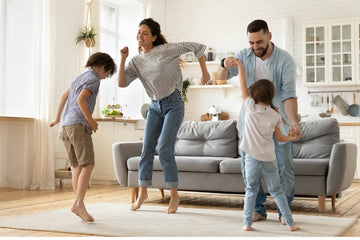 Best toys, games and activities to keep kids

 
busy
Finding a common recreational activity for the whole family can be quite challenging! While dad might like watching a match, older kids might enjoy a board game. Mom, on the other hand, would probably prefer to chill and relax.  
Given such disparate interests, finding a common activity that the whole family can enjoy can be tough. However, with the right involvement and the use of family-friendly toys, you can make the most of your family time.  
Furthermore, you can promote parent-child bonding with STEM toys that can actually make your kids love you more. Smartivity offers an innovative range of award-winning educational toys that are perfect for creating a stronger bond between children and parents. It offers access to smart toys for every age while inculcating the importance of family time among modern parents.
Let's explore some of the best learning and educational toys that will help you have a great time with your little one. 
What types of toys are there for the whole family to enjoy?
When choosing family-friendly toys, there are a couple of factors you need to worry about. For instance, you should consider the age of your children, their preferences, and the overall mood of the entire family while selecting the perfect toy or game.
Indoor Activities: Indoor activities for a family party call for toys and games that all family members can enjoy. Some instances of great activities to be carried out within the premises of your home include board games, construction toys, art & crafts toys, and suchlike. You cannot go wrong with classic board games like Monopoly, Scotland Yard, Checkers, Battleship and Scrabble. These are children games that we have all come to love and enjoy. 
Outdoor Activities: If you are in the mood to indulge in something energetic, you can try out outdoor games as well. There is a myriad of activity games for kids, including action games and outdoor toys that you will love to play with your little ones. Sporting activity toys are also perfect winners to keep everyone active and fit. You can bring to life the childhood vibes with games like hide-and-seek, hopscotch, jump the rope, and tug of war.
How to choose the right toy for the right age?
In addition to promoting creativity and safety, interactive toys for kids are expected to match varying stages of development as well as emerging capabilities. To promote a sense of all-round development while instilling a notion of fun-filled playtime, it is imperative for parents to bring home toys that are suitable for kids of different age groups. 
Toys for Young Infants: Babies adore watching things around them. Typically, they prefer bright colors and faces. Babies are capable of getting fascinated by what their hands and feet are capable of doing, getting drawn to new sounds, and much more. Some of the good options for smart toys for infants are: 
Things they can reach out to, make noise with, squeeze toys, board books, and many more

 

Things they love listening to like simple songs and lullabies

 

Things they can look at like colorful pictures and interesting images. 

 
While organizing a family party with infants, do not forget to stock up on squeezy toys, toys in primary colours, recordable books, etc.   
Toys for Preschoolers: Kindergartners and preschoolers tend to have longer attention spans than toddlers or infants. Usually, they are used to asking a lot of questions. They also like experimenting with new things and innovating their physical skills. Some of the good toys for preschoolers are: 
Problem-solving toys

 like puzzles, blocks, and counting toys are some choices. As you play jigsaw puzzles with your kids, it will help with dexterity and coordination. Moreover, it also helps in teaching about spatial relationships and logical thinking.

 

Construction toys

 like a collection of blocks for building objects and structure are also fine.

 

Creativity-boosting toys

 like modeling tools, coloured construction toys, blocks, etc. 

 

Art and craft toys

 are also popular with preschoolers. Activities like drawing pictures of family members, using a crayon, and other interesting activities encourage creativity, strengthen coordination, and foster self-esteem. 

 
Toys for Big Kids: Kids above the age of 6 years wish to engage themselves in interactive learning and exploration of their surroundings. Some of the options for smart toys for big kids are: 
Board and Card Games:

 

Card games and board games teach the young minds about turn-taking, strategy, patience, fair play, and negotiating rules. As you indulge in board games with your little ones, you can encourage coordination while helping your kid to learn to manage the emotions that are linked with losing and winning. One great example of such a toy is Smartivity's 

Try Tower

. It is a balance-based game that helps children the value of resilience and hard work. 

 

Science Toys:

 

Telescopes, chemistry sets, binoculars, and others Science-based toys that promote problem-solving and discovery help in improving math and science skills. Smartivity offers access to science-based STEM toys that are eco-friendly and helps children to develop an interest in science subjects. One cool example is 

Amazing Science Lab

 – a DIY activity set that contains as many as 44 experiments. 

 

Jump Rope:

 

As kids skip ropes with friends, they learn to take turns and get along with the peers. The overall jumping routine and the coordination required in the activity will encourage improved motor development as well as problem-solving skills. 

 

Musical Instruments:

 

As kids learn to play instruments like guitar, violin, piano, and other instruments, it encourages listening as well as fine motor skills while building attention skills at the same time. Smartivity's 

Xylofone Music Machine

 is a musical powerhouse that kids can build themselves and play. This one too makes for a cool party starter.  
What are some safety precautions when a child is playing with toys?
Safe and enjoyable toys for kids should be well-made. Here are a few tips to remember: 
When you are buying learning and educational toys for your little ones to promote a sense of togetherness, it is imperative for you to ensure that there are no splinters or sharp parts that do not pinch the soft, delicate skin of the young buddies.

 

Similarly, ensure that there are no small-sized pieces or parts that might get lodged in the throat of your child and cause suffocation. 

 
You should understand that normal wear & tear can result in once a safe toy becoming dangerous. Therefore, as parents, you should keep checking toys quite often to ensure whether or not they need replacement. 

 
Conclusion 
Family-friendly toys do not have to be complicated or expensive. In some cases, just the fact that you are spending quality time together as a family -whether you are indulging in a board game or solving puzzles together, these fun-filled activities can go a long way bringing your entire family together. If you need more ideas, then check out our Bestsellers page.