Future Makers
Why You Should Include Toys as An Alternative Medium of Learning?
by Smartivity on Tue, Nov 15, 22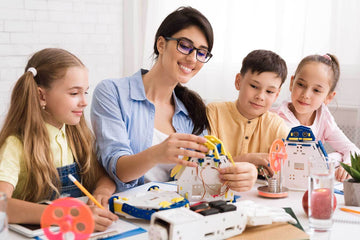 Why You Should Include Toys as An Alternative Medium of Learning?
Games, activities, and challenges play an important role in affecting the growth and development of a child. A child tends to learn through play, develop social and emotional skills, and refine their motor skills.  
Psychologists consider toys to be a crucial part of a child's pedagogy. A toy-based learning method can foster creativity and curiosity among children, especially among preschoolers and toddlers. The effect of toys on learning can, therefore, be a game-changer in the child's development, helping kids learn critical skills, such as problem-solving, logical thinking, conflict-resolution ability, and creativity. 
We have rounded up all the cognitive, physical, emotional and social benefits that you can ensure for your kids get by adopting toys as an alternative means of learning.
Top 5 reasons why you should include toys in your kid's lessons?
Toys are a great way to get children excited to learn, engage, and participate. Here are some important reasons why you should consider incorporating toys in your kid's study time: 
Intelligence:

 

Educational toys can help increase IQ. Children tend to ask questions and clarify their doubts when they play-learn

Imagination:

Toys allow kids to explore the world by using their imagination

Personality:

STEM (Science, Technology, Engineering and Mathematics) toys are also designed to boost their growth and development in all areas of personality

Learning:

Difficult subjects such as science, engineering, and mathematics may be challenging for the students to learn within the four walls of the classroom. Kids can learn these subjects through toys

Experiential Learning:

Educational toys focus on experiential learning, where students are completely engaged and "learn by playing" things. This allows them to better connect with theories and concepts by linking them to real-world situations.
What is the role of toys in good parenting?
Toys are an important part of parenting. As parents, you are constantly looking forward to providing your child with wholesome education that is also fun and engaging. However, this is easier said than done.
Problem with screen time: According to the Parents Together Survey, the average screen time for kids has doubled due to the pandemic, and around 85% of parents are worried because of this increased consumption. To counteract the increased screen time, many parents have turned to the use of non-digital toys. Many parents have started looking at innovative ideas to make children learn through play. Here, educational toys offer a unique way to create new experiences and methods of learning.   
STEM toys as a solution: Smartivity is India's No.1 STEM toy brand that offers a range of innovative educational toys, helping students to learn difficult scientific concepts in a playful manner. From optics to mechanics, Smartivity toys explicate concepts related to science, technology, engineering and maths. 
For example, if your kid loves doing science experiments, you can opt for Smartivity Amazing Science Lab to boost creativity and imagination. You can also give them Smartivity Space Explorer if they want to learn more about the solar system.  
Apart from boosting creativity and learning, the toys are also great for parent-child bonding. Most of the toys require parental guidance for assembly. As such, parents can utilize this time to not only create things along with children but also teach them scientific concepts. This in turn would reduce screen time and help your kids become better students.
Effect of Toys as Educational Material on Pre-school Students
Most of the traditional school harp on rote learning that emphasizes learning through memorization. In such an education system obtaining marks is more important than understanding scientific concepts. On the other hand, STEM learning takes an alternative route to learning in which children learn lessons through their play toys. Here are some unique benefits you can get by using STEM toys.  
Cognitive Benefits
Toddlers constantly try to understand and make sense of the world around them. The mental growth of the child that takes place during the first few years of their lives will go on to fundamentally influence the rest of their lives.   
Educational toys provide an opportunity to think differently and discover new things on their own. They enhance their logical and abstract thinking, problem-solving skills, and concentration power. In a nutshell, it helps in boosting the IQ level of the child. For example, engaging your kids in a space rocket toy will allow them to learn the concepts related to gravity and elasticity.   
Physical Benefits
Children develop motor skills through regular playing, but educational toys give kids an advantage by helping them refine their skills and their hand-eye coordination. The most common educational toys that are used to help develop gross and fine motor skills are building blocks and puzzles. Educational puzzles are a great way for young children to learn problem-solving skills as they start to use their eyes and their hands to connect different pieces of the puzzle together.  
Social Benefits
The social benefits that come from educational toys are often overlooked by parents. Educational toys provide children with the opportunity to play alongside their friends or siblings. This involves sharing, waiting for your turn, and cooperation – all of which are important attributes of social development.  
 
Emotional Benefits
Last but not least, when playing, children can pick up emotional cues such as happiness, sadness and anger. For instance, Smartivity Try Tower is a failure toy that teaches kids the value of resilience and how to cope with failure
Conclusion 
At Smartivity, we believe that the perfect educational toy for kids is just the right balance between learning and fun. That's why we offer innovative and creative toys that go with extensive months of research and testing before the launch. In addition, they are packed to help your child in overall development, including cognitive and emotional intelligence from all angles. Every toy piece is designed with premium quality material and by professional toy artisans. We have a wide range of educational toys categorized as per child's age and interests to help the child develop a positive attitude towards learning.   
Happy Playing!