Future Makers
Smartivity Design Team
by Smartivity on Thu, Jul 28, 22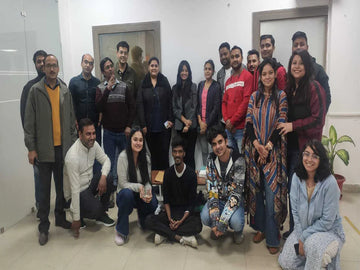 I felt it'd be a good idea to tell you something about how we make the toy you recently ordered at the store.
This way, you'll know more about the toy before it reaches there.
I'd dive right in.
Like you'd imagine, the process to make a toy starts right at Design
Our design team consists of some of the best folks from IIT Delhi's own design school, but also NIFT, National Institute of Design. 
We're proud of every single person we have attracted on the team. And they are proud to design toys that fundamentally prepare kids today for a better future.
The design team not only creates the toy experience but makes the important decisions related to the choice and color of materials as well as the instruction manuals. 
On a typical day, you'd see them sketching and brainstorming new ideas, or meeting and interacting with parents and kids to understand learning styles and get feedback.
Once the product is ready, we often launch them first with small groups of kids and their parents. This is often organized as part of the STEM Ninja Workshops.
In these early sessions, we get the first hand information of the end-to-end experience for the kid and the family.
It is during these sessions that we also get important feedback or questions on product price, material quality, STEM topic the toy helps with and other things that matter to parents at the time of purchase.
Once the product is developed and tested at a small scale, and we have some idea about the product's demand, we start production at our manufacturing unit in Gurgaon, Haryana.
To make these toys, we use Pine wood that is imported responsibly from eco-certified vendors and is free from all splinters.
Every kit contains a stencil of all the toy parts together with rubber bands to join them. We don't encourage use of any glue or tools to assemble these toys.
Our factory is certified to make toys as per international standards and produces great quality products that the packaging team packs in our warehouse right before dispatch.
With this, I'll conclude the story of how a Smartivity Toy you bought comes to life.
I hope this story stays with you as you receive and unwrap the box of delight we're sending to you in the next couple of days.