Future Makers
RAKHI 2022: Best Gift Ideas for Your 8+ year-old Sister
by Smartivity on Thu, Jul 28, 22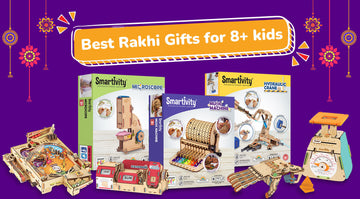 Relationships are a crucial part of our lives, and the memories we make with our close ones stay in our hearts for a lifetime as the most cherished ones. One of the most beautiful bonds is the one shared between siblings. Whether it is a brother and a sister or siblings of the same gender, Raksha Bandhan is the most awaited Indian festival that refreshes this bond and adds more love to it.
As we all know, Raksha Bandhan is made up of Sanskrit words 'Raksha' and 'Bandhan', which means the bond of protection. Celebrated on the last day of the Shravan month of the Hindu calendar, Raksha Bandhan is not just a celebration of siblinghood but is also a day to exchange thoughtful gifts between siblings. But with the change in time, gift ideas for brothers and sisters have also gone diverse. The blog is going to list the top 10 rakhi gifts for your 8+ year-old sister. One should not forget to choose the best rakhi gifts for their sisters as a token of their love. The gifts that match their choices in life or the activities they are fond of must be kept in mind before pursuing the best rakhi gift for sister, this Raksha Bandhan. You will never find a better choice to surprise your beloved sibling that gifting them some educational toys and games or ultimate learning-based gifts. Let us first understand why learning toys or kits will make the most cherished rakhi gifts this year.
Why Choose learning-based rakhi gifts for sisters?
There are a lot of ways in which educational toys benefit an individual in their overall development. Following are the reasons why you must consider learning-based gifts for your sister:
1. It boosts IQ and makes learning fun:
Science learning and stacking toys help improve memory retention and motor skills. Such toys are designed to work on a child's IQ and familiarize them with math and science concepts in a fun way.
2. Develops motor senses
The most favorite educational toy for 8-year-old girls and boys are building blocks and puzzles. Not only do these toys develop their problem-solving skills but also improve their hand-to-eye coordination.
3. Boosts Creativity
Educational Toys instigate kids to think outside the box and create scenarios while playing. This gives them the freedom to run their imagination wild and free. They can be their best versions while engaging with such toys.
4. Improves Concentration:
Children are the most fickle-minded and spontaneous. They easily lose interest and disengage with things. Learning maths can be boring for them, but playing maths can never be. In fact, educational toys like math learning toys, construction toys, science kits, etc., keep them gripped and interested for prolonged hours.
5. Enhances communication and social development:
Educational toys allow children to share their games with groups and inculcate in them values like waiting for your turn, sportsman spirit, leadership skills, and all crucial social development skills.
Thus, the impact of learning toys as gifts is going to be long-lasting and very important for your sibling. Now that you know why you should choose these as your gifting option, let's explore the categories you can consider:
Here is a list of the top 10 rakhi gifts for sister:
1. Books
Books can be a reader's best friend. They never complain, nor demand! Speaking quite literally, gifting books can be a very thoughtful action. They can help people say things that can otherwise be really hard to put. Moreover, books last for a lifetime, thus making them worth the investment. In fact, if your sibling loves imagining things, then good books can be an imaginary theatre for them that can keep them entertained. If you are choosing to gift a book to express love or affection to your baby sister, then ensure the genre they are fond of. Some might be interested in reading literature or stories, while thrillers and horror stories might entice some.  

2. Personalized gifts
One of the best ways to tell someone that you know them, that you love them is by giving them personalized gifts. It tells the person you are thinking of them and reflects your level of personal connection with them. Here you put a great deal of thought into the gift to make your 8-year-old sister feel special and loved, so what's better than this?
You can go down the lane of your fond memories with your sibling and make a personalized lamp, bedsheet, shirt, mug, or photo frame for them. Any other personalized gift would also stand out and would be very special. You can always pair these with flowers, cakes, desserts, or articles of clothing and adornments.  
In any way, customized gifts are more loved and more special than any other conventional gifts.
3. Creative Art and Craft Kits
Creative art and craft kits comprise Mechanical Xylofun Music Machine or retro scope toys that are beautiful in their own ways. These art and creativity toys are a great entertainment source for art lovers. Smartivity has the best science lab kits, soap-making kits, animation toys, and various other creative toys that will sit right into the soul of the person receiving the gift. 
4. Pretend Play Toys
Remember the days when we were young, and we used to pretend to play kitchen and office with our friends and cousins? We are sure that must be the fondest memory of your childhood when you used to play the role of your parents or teachers. 
You can definitely gift one of those set-ups to your younger ones too. Pretend-play toys comprise a variety of imagination-inducing kits that can give a great playtime to your sister and her group of friends. Not just for the grown-up kids, Smartivity has a wide segment of activity toys for kids of all age groups.
5. Science Learning Kit
How cool is it to watch your little sister play with smart science toys like rocket launchers, telescopes, microscopes, kaleidoscopes, and other educational wooden toys? You know you are bringing up a genius in the house when you gift such valuable educational toys to your 8-year-old sister/brother. If they love playing in the science lab for hours, fueling their curiosities, then you must take charge of encouraging them. How? Just scroll through the myriad options in science toys for kids on Smartivity and surprise your sibling with what they love.  
6. Math Learning Toys
Counting can be fun too! And that you can ensure with the help of the most thoughtful gifting idea for Rakhi 2022, i.e., math educational toys for your 8-year-old siblings. Kids usually feel bamboozled by the name of maths and formulas, but how about making them friends with the concepts of maths in a fun way? Playing with numbers, calculating on tips, and getting introduced to the concept of construction, applied mathematics, and geometry are all the by-products of playing with math educational toys.
7. Stacking and Building Blocks Toys
Not all kids love to play with lab kits or do art and craft. Some are also enticed by the way the world works. The way tall buildings stand or the way machines are made. To nurture the skills of these junior engineers, you can also choose to gift building block toys, construction toys, and re-arrangement wooden toys to your siblings. 
It will help them find multiple ways to solve a problem, thus nourishing their creativity to whole another level.
8. Musical Toys
How about letting your little rockstar add another toy of his interest to his arcade? Some kids are simply gifted with the power to create and identify music. They observe every sound in nature and have their own tunes running at the back of their minds. Such talents must never be condemned.
One great way to enhance their interest in music is by gifting them musical toys. For kids that are less than 4 years of age learn to identify sounds and sing or speak out loud along with those tunes in the musical toys. And the kids that are more than 6 years old can try to learn piano, casio, and other musical instruments.
9. Activity Kits
Kids easily attracted to mobile phones or note pads can be gifted some amazing activity toys that will help reduce their screen hours and keep them happily engaged in playtime.
10. Colouring books or painting kits
Not every art needs to be written or sung. Some art needs to be drawn on sheets. Gift your sibling a coloring book or a plain canvas with a set of colors to help them bring out the most creative side of their brain. 
This was all from our side, and we are sure that if you choose to gift an education toy to your 8-year-old sibling, they are going to be the happiest. Show your affection in an evolved way this Raksha Bandhan and let the spirit of celebration take over. Happy Raksha Bandhan!!