Future Makers
4 Great Toys For Kids That Are Fun And Educational
by Smartivity on Tue, Feb 23, 21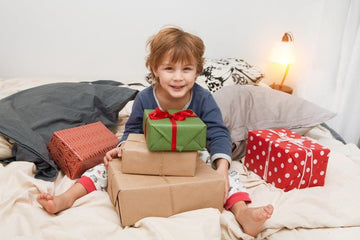 Looking for great toys for kids, that are fun & educational? Here they are
What could be more exciting than kids learning while they're playing? Children get bored easily, it's universal and that's why parents buy all kinds of toys for the kids to keep them engaged. But, if the toys are fun and educational, at the same time, they would be so much better.
Thankfully, there are plenty of great choices out there that range, from arts and crafts for kids to educational toys for kids that will help with their intellectual and motor development without missing out on all the fun! Introducing some of these educational and fun activity toys will spark their imagination and hone other skills.
Here's a list of the kind of toys that can help kids learn things in a fun way, while playing-
Jigsaw Puzzles 

They help with coordination and memory, teaching kids about logical thinking and how one thing relates to another (spatial relationships). These puzzles help exercise short-term memory and develop visual reasoning for a kid's overall cognitive function. Parents can choose various puzzle sets that can also vary in the number of pieces (30-100), to talk even engage the kids about the topics - planets, animals, plants, etc.

Origami

Origami is an extremely fun activity for kids who are 6+ years old; at this age, they tend to start looking for different ways to use their imagination. This art form comes with instructions and can help kids learn useful skills such as thinking and problem-solving skills. Kids can make animals, shapes, and more in colorful patterns all from sheets of paper; it's a great arts and crafts activity for kids.

This augmented reality-enabled toy, made by Smartivity is designed to help them learn about things like trade routes, geographic coordinate systems, and day and night cycles. The globe can be constructed with the help of the manual provided and kids can play single or multiplayer games with several options to choose from. One such example is the Day-Night game where a child can learn how day and night occurs due to the planet's rotation. It will make an excellent gift for kids who like travel or are fascinated by the way the world works.

Dominoes

Dominoes is one of the many toys and games for kids that can help them enhance various functions and math skills. With its simple rules, it is an ideal game parents can play with their kids. It can help them recognise patterns and also learn counting numbers. They can create shapes by stacking the tiles together and learn to match, sort, add, and so on.
As a parent, you would want only the best for your kids, then why not encourage play with these kinds of educational toys for kids to make learning as much fun as playing.