Future Makers
The Best Indoor Activities For Kids Ages 6-8 - Smartivity
by Smartivity on Tue, Feb 23, 21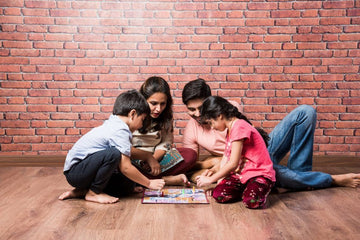 Children, irrespective of age, are explorers. And even if busy with school-related activities, their minds have the great capacity to learn something new and out-of-the-box. With limited outdoor time and staying indoors for longer periods becoming a potential new normal, it has become necessary to encourage kids to partake in some indoor activities that are fun and educational. 
These activities could include art and crafts for kids or educational games for kids, both of which can be instrumental in developing their skills when they're at home. There are plenty of great options to keep them away from excessive screen exposure and even give parents a chance to bond with them. 
Here are some fun indoor activities that parents can get their kids excited about and keep them mindfully engaged when at home- 
Treasure hunting
All you have to do is take some treats (treasure) and hide them all over the house. Prepare some interesting clues that lead to the location of subsequent clues that would ultimately lead to the "treasure". The aim of the game is to find each clue that could also employ solving a puzzle, to create a sense of adventure and fun with a little learning along the way.
Board games
Board games help in developing concentration, strategy, and a lot more. These could include monopoly, snakes & ladders, scrabble for older kids, checkers, and so on. It could be fun to include your kids in some family game sessions that not only add to their developmental aspects but also give you time to bond with them. 
STEM/STEAM toys for kids
STEAM is an acronym for Science, Technology, Engineering, Arts, and Mathematics. The toys made for this category help encourage kids to learn about various educational concepts in creative and interesting ways. They build and help develop analytical, practical, and creative thinking skills. Brands like Smartivity offer many educational toys for kids, like Smash and Topple Catapult (6+) and Link Dunk Parabolic Basketball (8+) which are perfect for indoor playing and learning. They'll keep your kids engaged for a long time. 
Creating art (Paper mache craft)
This is an extremely fun activity that involves making a paper mache paste using a few household things like water, flour, and a whisk. This glue can be used to make creations out of newspaper which can then be painted - flowers, fruit bowls, sculptures, etc. Making a little globe using a balloon is also a great idea. This awesome activity in the arts and crafts for kids section is an excellent way to keep your child occupied and away from boredom. 
Importance of Indoor Games & Activities for the Young Minds
Indoor activities for kids have always been a topic of debate. As far as outdoor activities are concerned, there is no question about their importance. However, fun indoor activities always come under scrutiny. With the emergence of high-end, technology-based STEAM learning supported by Smartivity, indoor games have become fun and vital all over again. 
In addition to the ongoing pandemic imposing the notion of social distancing, there are several other factors in the environment and society that support the concept of indoor activities for the young minds. Lack of outdoor spaces in urban communities, rising pollution, and safety features also question the process of playing outdoors. Therefore, a larger percentage of modern-age parents are moving to the scenario of indoor gaming and activities for kids.  
Benefits of Indoor Games & Activities for Kids
Kids running around the streets playing all sorts of outdoor games is something we do not see quite often nowadays. It is because of the lack of proper open play areas and the hectic work schedules.  
For the young buddies, it is important to play freely to relax and ensure some great fun. Still, a majority of kids in the modern era like spending most of their time indoors -simply playing video games or watching television. Indoor games, fun activities, and dedicated indoor play areas have proven to be innovative outlets for the aspiring minds. This is because it allows them to be fun, active, and most importantly, be in a safe, clean, and hygienic environment. 
Some of the proven benefits of indoor activities for your young ones are: 
#Encouraging Creativity
When kids play outdoors, they tend to spend a majority of their time getting involved in physical activities like sports, jumping, and running which help in maintaining optimal physical health. However, as far as creativity is concerned, the overall improvement in outdoor activities is not guaranteed. Indoor games and activities tend to be mostly entertaining, calm, and knowledge-centric. Kids are provided access to a number of educational toys  through Smartivity -allowing kids to boost creativity.  
Storytelling, drawing, painting, crafts, and art are some core fun-filled indoor activities for kids that should be encouraged. There are several aspects that a child can look forward to learning through storytelling.  
Kids always happen to be expressive and curious. In this aspect, indoor games and activities can help them in learning new things. Smart creativity kits by Smartivity encourage the growing minds to draw on their own while blending mixed reality with the innovative toys. It allows them to be fully entertained in a secure environment while also making them creative thinkers. 
#Providing New Experiences
Irrespective of the type of outdoor game -like trampoline, ball pools, or sandpits, kids are expected to learn something out of every game. However, innovative indoor activities like painting, drawing, role play, storytelling, singing, and dancing offer them a handful of new, creative experiences of dealing with a number of new situations. The all-new experiences will help in building their core social life skills.  
Kids love playing with new, innovative toys. These toys help in keeping them engaged and busy throughout. Toys having built-in features are always there in the wish list of the notorious minds. The Creative playtime activities and fun games at Smartivity come with high-end features that never fail to impress kids. 
#Offering a Safe & Secure Environment
Kids should not be left unattended. As they indulge in outdoor sports, it implies being involved in a wide range of outdoor activities. While there are several benefits, there are some risks as well. In addition to pollution, dust, wounds, and fear of strangers, there are several other factors to which our kids remain prone.  
On the other hand, with indoor playing, you can rest assured that there will be no possible hurdle like vehicles to hurt your kids as they play outdoors. It is a great feeling to experience the safety of your kids playing inside. They also remain safe from a wide range of outdoor-borne diseases like common infections, coronavirus, and hypothermia.  
#Improving Physical Fitness
Surprised to see this point as a benefit of indoor playing for kids? There are several studies that support the fact that regular indoor playing or activities like tennis ball races or ping pong can improve physical fitness -especially for the budding souls. 
A number of indoor games and activities incorporate a wide range of bodily movements while maintaining the agility of muscles. These games are great fun for the kids as well. These are great options when you are looking for options of quick exercises to keep your kids engaged and lively throughout. Playing indoor games like table tennis can help in the development of fast-twitching muscles for boosting reflexes.  
#Bringing New Experiences
While indulging in indoor playing activities, kids acquire new experiences that might be absent in outdoor activities. Through every indoor game they take part in, they learn something new. Some activities help kids in acquiring essential skills like conflict resolution, problem-solving, and social skills that can be used for dealing with different situations in life.  
The experiences that kids gain through indoor playing can help in making them more confident in life. It also supports the development of strong social relationships on a long-term basis. 
Conclusion 
Through these fun games and activities, it is super easy to keep your little ones engaged, while spending quality time with them. None of these are alternatives to outdoor physical activity, they're supplemental, after all, growing children need to develop both their minds and bodies.