Future Makers
Give Your Child an Edge with These Fun and Educational Games for Kids
by Smartivity on Tue, Mar 30, 21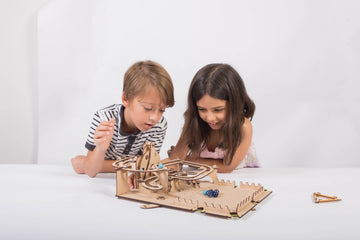 In an age where learning how things work has, thankfully, become quite popular, educational toys for the kids who show this aptitude, have become vital. Their little minds are curious enough to grasp the workings of the world at a very young age and as parents, there is nothing as important as giving them all the essential resources.
Providing an edge with the right toys for kids as playtime material can boost their growth considerably, and the fun part isn't compromised on either. This is why you will find a plethora of quality toys or games out there that impart the right knowledge into their minds and help set a foundation for a brighter future.
Here are some quality educational games for kids or options for them, that can satisfy their curiosity of the world while they're having tons of fun:-
Puzzles & quizzes
Nothing puts a young mind to work better than building their curiosity around a topic. Quizzes are an effortless resource that feeds this curiosity. From science or math-themed puzzles to linguistic or application-based quizzes, kids can benefit and feed their mind with these fun and educational tools. The best part is, quizzes and puzzles don't require the traditional setting of a classroom or school or even strictly at home, they can be worked on anywhere, in any environment and can include pictures, games and so much more.
Assembly kits/ Building toys
The mind of a kid is constantly trying to connect the dots around. Building on this, games that include the joining together of pieces to form a whole structure can efficiently boost cognitive development and help build strong eye-to-hand coordination. Some, like robotics toys for kids, can teach them about mechanical concepts and how things work. Putting things together fosters a sense of accomplishment, can build confidence, and also creates a sense of independence.
STEAM toys
If there's any evolution in the spectrum of games for kids' learning, STEAM (Science, Technology, Engineering, Arts, Math) toys are a driving force. Consider SMARTIVITY's Educational Construction Toys like the Blast off Space Rocket or the Stemwheels Speedster - these are exciting toys that are carefully designed to fuel the basic understanding in key areas of learning. This is why exposing kids to STEAM through such fun toys can prove vital in their educational upbringing.
 Toys that help build on these concepts and growth panthers for kids, can be instrumental in their overall development. Brands like SMARTIVITY understand this and blend learning with entertainment to meet this new-age, fundamental expectation. For parent's looking for the ideal gifts for children to give them that edge, choose from the various options we've listed here.