Future Makers
Skills that Your Kids can Develop while Playing with STEM Toys
by Smartivity on Wed, Aug 31, 22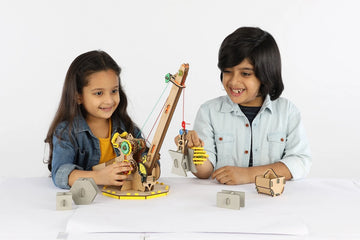 Reports and many famous child psychologists and experts believe in the fact that early childhood is the best time for kids of all ages to introduce to STEM ( Science, Technology, Engineering and Mathematics) or STEAM ( Science, Technology, Engineering, Arts and Mathematics) topics. But have you ever thought about how to do this impossible thing? Well! We have a solution to this. Toys! Every kid loves toys and playing with them. So, why not use such toys as a mode of learning? This can be made possible with the help of various STEAM and STEM toys, as these toys help in child development. These toys inculcate, promote, and introduce the basics that are part of various aspects of life. STEAM/ STEAM toys are usually hands-on, require active attention, and are great for training kids' scientific thinking skills. With STEM/STEAM toys, children can learn through playing, as parents don't have to be weary of the hours kids spend playing being wasted. 
How STEM toys Help in child development
Here are the benefits of STEM toys and how one can pick the best toy!
1. Improves problem-solving skills
STEM and STEAM toys encourage original thought and improve cognitive and Creative thinking. Using such toys will motivate your kids to think independently and find solutions by digging out-of-the-box ideas. These toys are apt for kids who show an inclination towards various skills, and present unique challenges, thus encouraging children to find solutions.
2. Learning becomes interactive and fun
As parents, it's imperative to make education and learning fun and interesting activities for child development. And that is what these toys do. They associate complex learning concepts from technology, mathematics, science, and arts with simple ideas that children can easily grasp. When learning becomes fun, kids of any age will be easily able to identify problems of all sorts, and they will see the problem as a learning opportunity. This learning will be carried with them for their lifetime.
3. STEM toys promote creative thinking
STEM and STEAM toys encourage kids to think of original ideas and creative decision-making. Any field in the world requires creativity, as, without creativity, no firm can grow and survive in this competitive environment. These toys provide multiple options, with each bringing out a different outcome with every possible option. When a child decides on a future for himself, he is choosing a specific outcome that he is well aware of. These abilities nurture their capabilities to think critically and approach each activity without any hurdles, preparing them for the professional world.
4. Helps in better communication

Kids tend to learn better when they are taught things with toys. STEM toys teach them things and help them develop communication skills when interacting with their friends while playing with these toys. With proper guidance, any kid can learn with these toys. With this, the communication of your child's development with other people around will get improved to a great extent.
5. Builds collaboration skills
Using STEM/STEAM toys, kids learn the skill of collaboration with other people. They slowly develop patience, and when they grow, they will be better able to work with people with different mindsets and viewpoints.
6. Inculcates confidence
These toys are good for the mind and brainpower and improve and build confidence in the kid. The more the kids are exposed to motor activities, the stronger and more confident they get about using these toys. It is good to introduce these technology toys at an early age when the improvements happen and at a fast pace.
7. Build interpersonal skills
STEM/STEAM toys help to build interpersonal skills. The skills will help them to choose the right career option and successfully solve any problem that comes their way. STEM/STEAM toys are very beneficial for kids, and if introduced at an early age, they are going to be great for their future.
8. Relates to the real world
Imagine a world where children can learn scientific concepts from toys that they can build from scratch and play with. For example, STEAM toys can help young minds learn about angles, pulleys, and counterweight while using a construction crane toy, helping them build and wreck things without hesitation. Such STEM educational toys are designed to spark curiosity about different and unique things happening in the world.
Various ways toys can teach STEM concepts:
Toys get kids involved passionately in STEAM/ STEM subjects and will eventually start loving science and other subjects. Children can understand the relevance of Science and Math concepts while playing with such toys. These toys can teach kids how to fail and still have fun, which will help them to develop perseverance. Children learn about collaboration and build various social skills, which are greatly needed in any workforce. Many activity games for kids expand stereotype roles and foster the delivery of culture and perspectives. They teach kids to take healthy risks to build confidence and courage. Hands-on exploration and improving cognitive abilities and skills are promoted in children. These educational toys encourage them to expand their interests and try out new things. These toys help integrate the arts into STEAM projects by encouraging creativity and imagination. They teach kids how to inbuilt problem-solving skills and help them think deeply and act accordingly.
Conclusion
Today's world is a technology-oriented world. Toy makers all across the globe are now focusing more on making such toys that reinforce learning ability in a kid, through play, in order to develop an interest in STEM/STEAM from a young age. To strengthen the kids' ability to concentrate, experts suggest parents allow kids to play with such tech toys. STEM/STEAM toys offer ample opportunities for collaboration, and cooperation, making younger minds together to work better. Smartivity encourages kids to draw and bring drawings and develop their imagination and creativity skills with STEM and STEAM toys. If you are looking for a way to encourage your kids, give us a call. There's so much that STEM or STEAM educational toys have to offer when it comes to the growth of young minds.