Future Makers
STEM/STEAM Toys - The key to your child's growth at home
by Smartivity on Wed, Apr 21, 21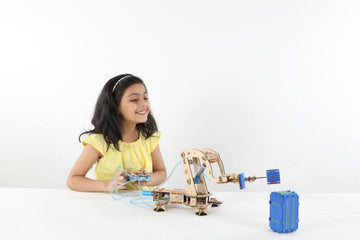 STEAM (Science, technology, engineering, arts, mathematics) toys are those that inculcate, promote and introduce the basics that are part of various aspects of life. Child psychologists say that early childhood is the best time to expose your children to them.
With a rocky year of pandemic-related educational disruptions, a study by live science discussed the use of these types of educational toys for kids as the way to fill the gap and keep track of your child's growth at home.
Let's take a look at how these aid development -
Improve problem solving skills
STEAM toys encourage original thought and improve cognitive learning. Your kids will be motivated to think independently and overcome hurdles intelligently. These are for the kids who show an inclination towards various skills, present unique challenges encouraging children to find smart solutions.
Smartivity is a brand that offers a variety of STEAM toys in the age groups of 3+, 6+, and 8+ who are curious learners. One such toy that offers customization challenges, is the Tap and Track Level Maze for the ages of 6+, which will introduce your child to new challenges keeping them occupied for hours. They make great gifts for children.
Imbibe creativity at a young age
There are plenty of options online or in stores for creating interesting arts and crafts for kids. Activities like coloring and painting will develop hand muscle strength and develop dexterity from a young age. Another pro is that being creative proves to be quite useful for the mental and emotional well-being of your child to help them express their emotions freely.
Smartivity's Super Big Awesome Magico coloring kit for ages of 3+, is a great option for kids to explore their creativity and imagination interactively while having lots of fun. Another great birthday gift for a child.
Promote spatial skills
There appears to be a strong connection between construction-based educational games for kids and developing spatial skills. Kids who play with STEAM toys show a profound interest in construction and often build structures that portray their usage of spatial skills and intelligence. Doing so, kids use their imagination in creating a mental image of the structure before they start building it.
Brands like Smartivity give you lots of options to choose from when it comes to construction toys. The Pinball Machine is one of the educational toys for kids above the age of 8 that helps them learn about science, technology, and engineering. Your child will also learn about momentum, levers and energy transfer, through play.
So when you're considering birthday gift ideas for boys or girls, you can't go wrong with STEAM toys.