Future Makers
4 Constructive tips to make indoor-time beneficial for your child
by Smartivity on Wed, Apr 21, 21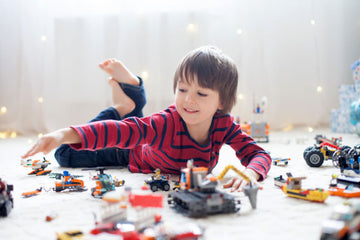 Today's pre-existing conditions have kids staying indoors a lot more than ever before. Parents might be worried about them becoming couch potatoes, or screen-addicts, but here are three constructive tips to make this indoor time a learning experience for your kids:
Toys for the kids with an aptitude for learning
Kids quickly get bored of the same activities and being naturally curious, constantly look for the next engaging thing. A 2019 study, talks about the many benefits of educational toys for kids and how they stimulate learning and development.
These also include construction toys that are ideal for helping kids learn to be independent and build self confidence. Brands like Smartivity have been working to create age-appropriate STEAM toys for kids like their Gear Propeller Flying Machine, for ages of 6-8 and the Pirates Telescope, for 8-14 year-olds to fill this space.
Even technology toys for kids, like Smartivity's Mechanical Hand will expose your child to the marvellous anatomy of the hand and biomimicry.
Teach them life skills
This is the perfect time to teach your kids skills that will help them on their journey to becoming well-rounded adults. Take the time to teach your kids basic life skills; you can start with simple things like indoor gardening, teaching them how to bake (specially for children above the age of 8), teaching them vocabulary building skills through games or books and so much more.
Arts and crafts for kids
Imagination is where kids shine. Indoor time can become beneficial, if you let your kid express emotions through their creativity. It's also a great way to help them de-stress. Arts and crafts toys for kids should be 'age appropriate' -  choose easy craft ideas like basic origami or building an obstacle course, to polish their motor and cognitive skills. Colour and shape based activities can also prove to be beneficial for kids of all ages.
STEAM Toys
STEAM (science, technology, engineering, arts, mathematics) toys are those that introduce, promote, and inculcate the basics that are part of various aspects of life. These toys for kids learning can give your child an early boost in these specific areas. Smartivity is focused on creating STEAM toys for the kids that will help them learn and grow while having tons of fun.
It becomes ideal to engage your kids meaningfully at home. So, a mix of these activities and a little interaction from you as well, can go a long way in helping your child make the most of indoor time.