Future Makers
How To Select The Right Toy For Your Child?
by Smartivity on Wed, Sep 22, 21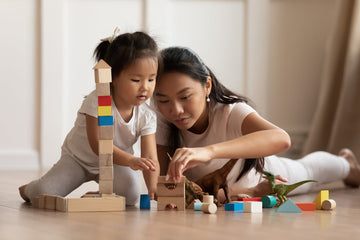 Choosing the right toy to play with is crucial. It might just be one of the most important missions you will ever embark on in life. Maybe not, but you get the gist. If you are a parent, you need a toy that will help your child learn and grow. If you are a child, you need a toy that will bring you happiness and the unending thrill of excitement. And if you are neither, but just a concerned party thinking of getting a toy for someone, do not worry, there's something here for everyone!
The toy requirements for different age groups, requires different criteria for selection. Which is that one toy for you, sitting in a dark, shadow less room, glimmering under a spotlight?
Dr. George Sachs, an infant psychologist notes that children belonging to this age group begin to initiate conversation, to produce simple sentences talking about their interests etc.
It seems pertinent to buy a toy that you as a parent can use/accompany your child to play with as conversation and engagement are essential for children belonging to this age group.
It goes without saying that children at this age should be introduced to a toy that helps them to turn their imagination into reality. Such as activities which incorporate the concepts of art and craft, puzzle or physical object that can be moved. With activities that ensure active participation and creative input of the children, their fine motor skill improves. Along with enhancement in their cognitive skills, motor skills, learning abilities and creativity!
Children at this age begin to develop their imagination further. This calls for an appropriate outlet to exude this imaginative power. Toys that engage a child in learning acts as a boon. Not only does the child enjoy playing, he experiences the joy of knowing what he has built. Manuals thus, helps in engaging a child and allows him/her to delve into the world of creativity even deeper.
Reasonably Priced
It is a fact that eventually the kid will grow up and require toys that meets with his/her expectations that they will wish to inculcate then. It is therefore, important for the parents to buy toys which are engaging, of the best quality and reasonably priced.
At this age, children look to mastering skills. They have a greater understanding of the world and engage in making choices and decisions for themselves. This is the time where one's own talents and interest takes hold.
At this age we don't need toys that scream just 'learning'. We need toys that are not just educational but also action packed with fun!
A child at this age desires a toy to enhance their motor skills. Putting together pieces or using large blocks. Mechanised, motorized, complex gear systems are some basic descriptions of toys that children have fun in engaging with. At this age, it is important that a child does not restrain himself/herself to only learning and memorising theories at school. But to also find ways to put them into practical use.
Smarter Learning 
Toys which corroborate both fun and smart learning are a massive plus. The toys chosen should have an intention of imparting smarter learning. Practical oriented learning allows them to be aware of the concepts that aid to prepare them for the future.
As Carl Jung once said, "The creation of something new is not accomplished by the intellect but by the play instinct."
Reality Enhancing
At this age, the children should be given an opportunity to delve deeper to understand what their capabilities are exactly. After having constructed a toy, the child should be given the opportunity to play with and bring into life his/her imagination. An actual toy that can be used creatively and realistically will trump a toy that remains static after completion.
Fun Learning- STEAM
Toys should be about fun and not learning. But what if a toy had the ability to emphasize fun while also providing learning opportunities? STEAM is an essential concept incorporating important elements for one's cognitive development i.e., Science, Technology, Engineering, Arts and Mathematics.
STEAM toys are a reflection of the fact that it is not necessary to choose one of your brain over the other. And that one can choose to be both analytical as well as creative. These toys give you, the one playing, an opportunity to solve problems creatively, with new tools. A new outlook on viewing data, innovating and linking multiple fields.
With STEAM toys, creativity is enhanced and confidence is boosted!
Pride of Making
To give fuel to this fire of creativity, the pride of making a toy oneself lets one channel their creativity in realistic terms. Far more valued than ready-made toys are ones where individual hard work and efforts are put into. This inculcates a concept of ownership, and responsibility towards things. It inculcates a sense of pride and enhances the value of one's efforts.
Gender Inclusive
At this age, creative toys should not be out of your reach because they are considered to be a "boy's toy" or a "girl's toy". Toys which enhance essential skills and enhances the imagination prowess of an individual does not deserve to be labelled as a toy belonging to a specific gender.
In conclusion, there are toys for all ages. What is important to understand is that toys are not only meant for playing but also for developing knowledge and skills. Once you have in your hand the right toy, you have in hand the right skills!