Future Makers
The Best Gifts For Kids With An Aptitude For Learning
by Smartivity on Tue, Feb 23, 21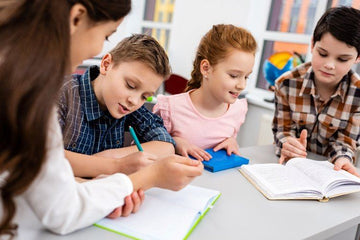 As parents, providing your kids with the essentials of learning and growing the right way takes center stage. Consider toys - they're great tools not just in keeping young minds engaged but enabling them to process the fundamentals of life. Whether that's incorporating basic mannerisms, knowledge or boosting their aptitude for learning.
Educational games for kids are your best bet at home where, in current circumstances, can help you focus on work while they enjoy themselves on their own. A thoughtful gift can help your kid develop their aptitude skills while having tons of fun and thus, prove instrumental in shaping their future. Here are a few gifts for kids that we recommend you look into:
Building blocks
One of the more popular gifts parents choose for their little ones are building blocks. These can be made of plastic or synthetic polymers that make it easy to use freely. Studies recommend that building blocks or toy squares can help kids develop spatial thinking, intellectual adaptability, and building abilities, with an aptitude for creativity. They assist and enforce the habit of thinking outside the box and with the nature of the toy, there are no limits to being creative.
Word puzzles
Apart from giving your kid the tools to build, it's vital that they explore their ability to comprehend and understand language and its right application. For this, gifting puzzles with a focus on words can do wonders. Outside the classroom, these games help build curiosity and enable kids to form words and learn their meaning at a very young age. Not just this, word puzzles also boost the aptitude of perception and improve language abilities. Include these in your kid's playtime and you'll see impressive results.
Educational Tool
Inculcating educational knowledge through toys works best with a brand like Smartivity. The Blast-off Space Rocket, for example, is an ideal toy set that allows your child (6+ years) to learn the fundamentals of gravity, weight, and elasticity. Another toy, Odd-Even Shooting game, incorporates the workings of Math in the minds of your 8+ year old. These are both essential educational tools for them to learn and when at home.
Apart from the usual toy hampers, kids also need to strengthen the basics, one of which is reading. There's a whole world of interesting books, both informative and visually immersive, out there. These are great educational tools that can build the aptitude of learning in your kids. The best part about books is that kids don't need a specific time to indulge in the activity. Anytime is great to have a good read and the more they find satisfaction in it the more they'll want to learn.
If you're thinking about suitable toys for the kids to keep them occupied at home, these options are a great way to get started. There are plenty of great choices out there to build your child's aptitude towards a particular interest. Some are, of course, universally great to help foster a child's natural learning and social skill abilities. The best part about these kinds of activities and toys is that they help your child learning something useful, while enjoying themselves.