Future Makers
The Toy Association's Toy Trends of 2022
by Smartivity on Sat, Feb 26, 22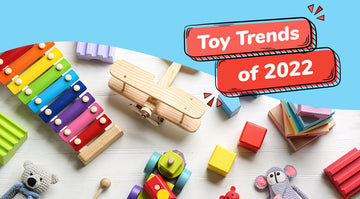 All work and no play makes Jack a dull boy, they say. This statement rings completely true in this modern age, especially with creative play being replaced by screen time that provides less stimulation and less room for creativity and fostering imagination.
The Toy Association comes to the rescue with top toy trends of 2022 that showcases exciting new ways for parents and caregivers to introduce new ways of play that stimulate the mind while giving plenty of room for creative imagination.
Adrienne Appell, executive vice president of marketing communications at the Toy Association says, "With Genius of Play research showing that 76% of parents believe play provided a positive escape from the reality of the pandemic last year, we expect both kids and adults to continue to seek refuge in play while much of the world remains uncertain. While there have been plenty of ups and downs and the effects of the global health and shipping crises have been felt unevenly by our member companies, at the end of the day, play is a mainstay — providing emotional support, opportunities for learning, and a chance for families to connect and destress."
Here's reviewing the trends and themes identified by the Toy Association's team in meetings held with toy companies in 2021.
Next Gen Creators
With the enormous growth of the digital space, children (as well as adults) have more space, opportunities, and inspiration to be creative and delve into creating new content with new kinds of products and toys. With new generation toys, children can create personalised, new age content through construction, drawing, coding, photography, filmography, and more. 
Such toys can help children build skills while they create content on the internet. And it's of utmost importance to now have toys for children that accommodate their social media use while grounding them in physical reality with tactile toy building skills.
Toys for Social and Environmental Good
A OnePoll survey commissioned by the Toy Association revealed that a toy's sustainability is most important to the majority of US parents, thus proving that the new generation of toys need the right investment in terms of quality to be accepted and celebrated by parents and caregivers.
Since as parents and caregivers, we're all striving to build a happier, healthier tomorrow, toys and play have been proven as important tools for engaging children in real life, while keeping values such as sustainability, eco-friendly materials, gender inclusion, equality and more. And STEAM toys have a good role to play for the same.
The future of play
We've all been familiarised with the metaverse and the growing virtual reality space, that will affect the play industry more than ever. And for those who want to stay grounded in the physical world, but are still looking to get the thrill of play, there are plenty of international and vacation themed puzzles, as well as portable, travel friendly games that families can take with them on their vacations. 
Toys that stimulate the senses
ASMR has become all the rage in the virtual world to give us comfort and peace while we immerse ourselves in the digital space. ASMR, which means autonomous sensory meridian response is also driving and influencing the physical toy industry inadvertently. And research shows that we will see more toys in 2022 that engage young minds in exciting new ways. 
The trend includes light-up playthings that let kids express their changing moods, classic brands reinvented with new fidget play, and toys that provide calming social-emotional comfort to kids.
Toy of the year 2022
Smartivity's Pinball Machine was recognized as one of The Toy Foundation's 'STEAM Toys of the Year 2022'. Known as the "Oscars'' of the toy industry, the Toy of The Year (TOTY) Awards program recognises the topmost games in the US market. Finalists across categories are nominated from within the industry and selected by a panel of expert judges. Smartivity games are designed in-house by a team of imaginative designers dedicated to creating STEM toys to make learning truly holistic. Each product is tested and approved by parents, experts and most importantly, children.
Such STEM toys, kids educational toys and engineering toys can help children learn the physics behind what goes into making a game, and then enjoy the pride that comes with playing a game made with their own hands! And that's something the Toy Association Trends celebrates every year. 
If you're iInterested in hearing more about top toy trends of the year, check out The Toy Association's full trends release and accompanying presentation on The Toy Association's YouTube channel. Visit toyassociation.org/trends to learn more.