Future Makers
5 activities to keep your child engaged while you work from home
by Smartivity on Tue, Apr 20, 21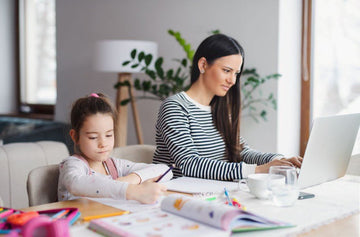 Whether you drive down to the office or work from home, dealing with your child can be hectic during these times. As your child grows older their energy and curiosity builds too, taking a toll on your office hours. Keeping them occupied is important, but in the right way.
This is where educational toys for kids or activities come in. So, here are a few things, including relevant toys, that can help you concentrate on work, without having to worry about your little one bringing the house down.
Arts & crafts for kids
Nothing engages a young mind more than the vibrant nature of colorful paints, crayons, craft paper, etc. Kids can spend hours doodling and letting their imaginations run wild on paper and with colors, or folding and cutting it to create structures. Virtually anything could be used to create and help build resourcefulness and independence.
Science project kits
Science, if exposed in a fun, interactive manner can keep kids engaged for a long time. Smartivity's Blast-off Space Rocket is one such toy kit. Filled with the basic learnings of gravity, weights and elasticity, this rocket building kit is one of the ideal gifts for the kids who show a curiosity for science.
Robotics toys for kids
Building, constructing or creating something brings a sense of accomplishment to a child. engineering toys for kids who like building things, like Smartivity's Hydraulic Crane, gives your child exposure to vital robotic aspects like an hydraulic system, rack and pinion Mechanism, and momentum transfer, all in one exciting setup.
Educational games for kids
As a working-class parent, you're always going to look for toys and games that not only offer engaging entertainment but also teach your kids something. Educational toys for kids like Smartivity's Fidget Digit Multiplication Machine imparts the basics of arithmetic multiplication and engages them in linkages and momentum transfers, ideal topics to learn at a young age.
Creativity enhancers
Toys that help boost the creative process of kids are a great way to keep them busy during the day. Smartivity's Clickety Flix Retroscope encourages your kids to become more creative while teaching them about vision and animation. This will keep them entertained in their own little world while you can get work done with ease.
It is ideal that you have a mix of these activities and games so your kid can play and learn as much as possible while at home. Weekdays can be hectic and having constructive, interactive, and educational games around can help you tackle juggling between your job and managing your child.